Andrew Kotting - Favourite Walk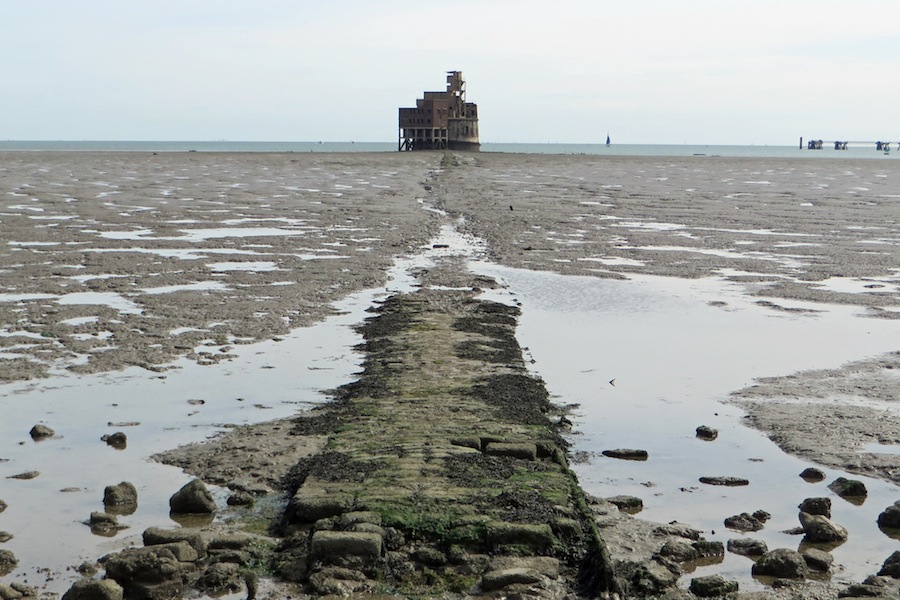 Andrew Kotting's Favourite Estuary Walk is around Isle of Grain:

Start point: St James Church of England - on google map here.
End point: Isle Of Grain Repeater - on google map here.
Highlights: Grains Tower

"Although I've beaten the bounds of the Thames Estuary and in particular the Hoo Peninsula for many years, perhaps most notably in the company of Iain Sinclair when we dragged a swan shaped pedalo across the Isle of Sheppey, it would be very hard to choose a '
Favourite Estuary Walk'
"I would however suggest driving to the Isle of Grain, parking up at St James' Church and walking directly towards the River Thames, making a right, walking half a mile and then looking out-to-sea. There stands Grain Tower
, a former artillery stronghold constructed in the 1860s to defend the confluence of the Rivers Medway and Thames during a period of tension with France. Remnants of the tower are still visible and I would recommend walking along the jetty at low tide, climbing up the metal ladder and spending a whole tidal cycle on board.
"Time stands still out there as the waters of the two rivers meet, creating an amazing vortex as they eddy and flow, sometimes clashing, sometimes consuming. The experience is elemental, visceral, lonely and spooky. A contemplative delight as you explore the ruined fort; the dark inner chambers, the abandoned gun emplacements and the trace elements of other visitors.
"Take food and a thermos or bottle of brandy and explore to your heart's content. Return at the next low tide when the spit reveals itself, an umbilical chord of connection back to 'civilization'."

NOTE: Don't miss Anna Falcini's exhibition Coming Out of That Past into Glistening Black (Estuary's Associated Event) - installed in St James' Church, Isle of Grain for the weekend of Saturday 24 and Sunday 25 September. More details here.
Photo by Diamond Geezer -
Flickr