Nicola White - Favourite Walk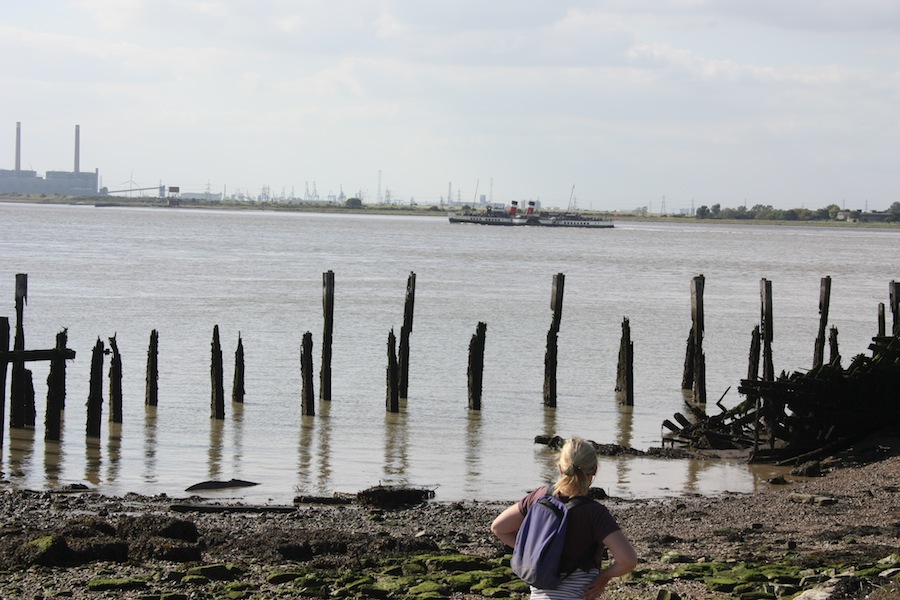 Start: St Mary's Church, Lower Higham, Kent
End: Cliffe Fort

I love this walk as it is wild and remote and you can see some wonderful birds and even seals whilst walking along the coastal path of Higham Creek. I find it excellent for beach-combing and for collecting washed up items which I use in my artwork. It is not particularly long, but the time spent collecting driftwood and looking at other exciting washed up objects makes up for that. All in all it is probably just 2.5 miles there and back.
So, the walk starts just outside St Mary's Church in Lower Higham. St Mary's has special links with Charles Dickens who lived at Gad's Hill in the parish. His daughter Katy was married at the church in 1860 and it is said that Dickens may well have been inspired by the marshes nearby when writing the opening scene of "Great Expectations". The earliest part of the church is Norman, and in the mid-14th century the church was doubled in size towards the south. Look out for the beautiful carved wooden door and the pulpit which all date back to the 1400s. St Mary's is no longer used for regular worship, but has been in the care of a national charity since 1976 (the Churches Conservation Trust). What is great is that it is open for visitors and the stained glass windows inside are stunning. There are also some interesting plaques on the wall and on the floor to read.
Once parked by the church, you walk straight ahead to a gate which opens into a field. There is a very large, barky dog here in the garden who gets very excited when you walk along the footpath adjacent to his house! For all his barking he is a bit of a softy though. You cross a small stile and follow the path across the field where you go through a kissing gate and cross a small railway line.
Once you cross the railway line, you will find yourself with Higham marshes to your left and some large pools to your right. Look out for a beautiful rusty old crane in the first pool. Very atmospheric and photogenic. The pools are full of wonderful birdlife, including grebes, swans, ducks and moorhens. Follow the winding path through clumps of sloe bushes and reeds. This can get extremely muddy at times so wear boots! You will come across a lot of horses too who graze in the area. In summer look out for foals!
Once past the pools you join the Saxon Shoreway and walk along Higham Creek towards Cliffe Fort. As you walk along Higham Creek, look out for the large hulk of the Hans Egarde ship, which was a wooden 3-masted ship built in 1922. It was beached at Cliffe many years ago and is now decaying, covered in seaweed, algae and rust. It reminds me of the skeleton of a whale and I am sure it has many tales to tell, if only it could talk.
Cliffe Fort is on your right, and was built in the 1850s as a defence against the invasion of London via the River Thames. It is now derelict and you are unable to enter. The erosion of the path currently makes it difficult for you to go any further unless you are very nimble. If you search though next to the area where the fort is, where the path has eroded, you are likely to find small pieces of pottery and fragments of clay pipe, which most certainly come from the old waste belonging to the fort many, many years ago. You will also see along the path near the fort, the remnants of the Brennan Torpedo tracks, a 100-year old guided missile system.
Usually, after having a little forage for pottery and clay pipe stems, we head back along to the beach where the Hans Egarde is and settle down for a picnic whilst watching out for seals if the tide is high. There aren't any local pubs Im afraid, but we often take a bottle of wine with us, or some beer! I have also been known to have a swim at high tide from the beach here. Enjoy!