Katrin Albrecht
Katrin Albrecht was born in Germany and now lives in Folkestone, Kent. She works predominantly in the medium of sculpture, installation and collage. Using fabric, clothes and second-hand materials, she creates bold and colourful installations that are inspired by human characteristics and interactions.

For Estuary 2016, Katrin Albrecht created a brand new work, Cut From the Same Cloth, which consists of 11 flags made up from 28 western nations flags, together with the flags of Syria, Afghanistan and Iraq. Cut up and reassembled to form new shapes and new flags, the abstract and very colourful patterns only hint at their former representational function.
Forms of the human body appear occasionally like a hand, a foot, an eye. Cut From The Same Cloth is about being human. Europe is currently facing a humanitarian crisis with thousands of refugees arriving every day. This projects aims to highlight our similarities rather than the differences between us human beings to create a work that exudes freedom, beauty, joy and fluidity.
Cut From the Same Cloth was on exhibition in Gravesend High Street from 17 September until the end of October.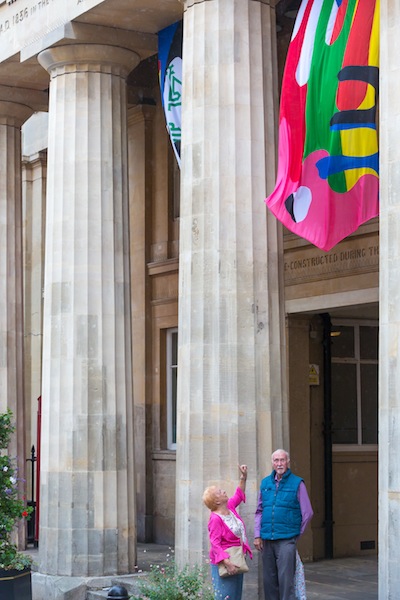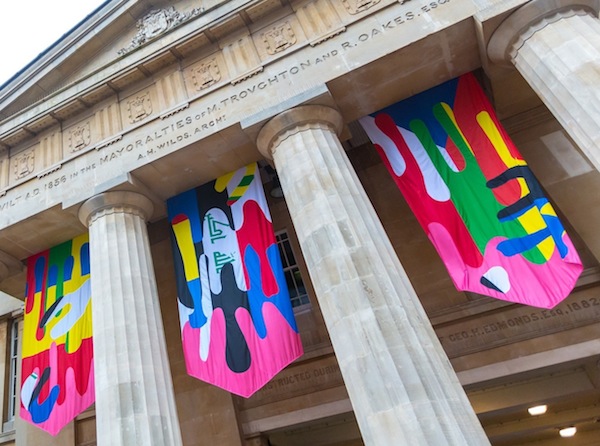 Photos by Benedict Johnson.