Wish You Were Here
Wish You Were Here

An installation of ten brand new, cultural Beach Huts installed on the shore-end platform of Southend Pier takes audiences on an artist-led, journey through the heyday of the classic Estuary seaside experience to the present day. The exterior of each hut has been designed by an artist/designer – including two by Southend school pupils.
Each Beach Hut acts as a small cultural venue for ideas, exhibitions, sound works, film and even a small library – as follows:-
Music Beach Hut
Browse through well-known south Essex favourites, Dr Feelgood archive, fly-posted to the hut walls. Listen to an audio recording with Chris Fenwick, the Feelgood's manager of 40 years – sharing memories and insight to the band and the music industry.
Exterior designed by: Sarah Kate Wilson
Performance Beach Hut
A bespoke design allows this hut to open out into an impromtu stage for budding and experienced performers alike.
Exterior designed by: Sam Duckworth (aka Get. Cape. Wear. Cape. Fly)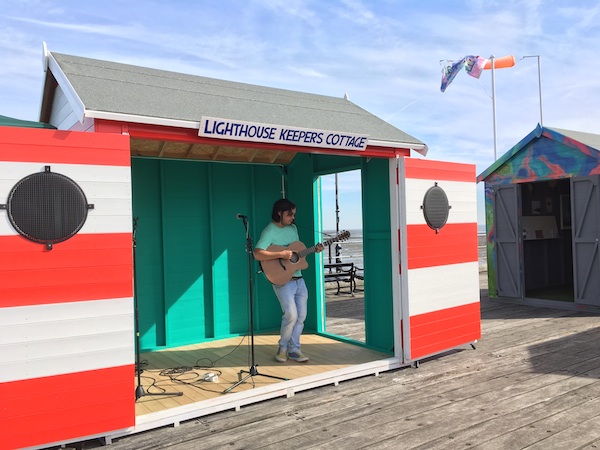 Sam Duckworth
performing at the Music Hut, photo by Michaela Freeman
Radical Essex Beach Hut
Learn about Radical Essex and the ongoing festival programme across Essex masterminded by Southend's own Focal Point Gallery. www.radicalessex.uk
Exterior designed by: Fraser Muggeridge Studio
Film Beach Hut
A century of Southend Seafront told through the recollections of long-time residents, brought to life by rare archive footage. A specially commissioned film for Wish You Were Here by Andy Delaney.
Exterior designed by: Ruth Catlow and Marc Garrett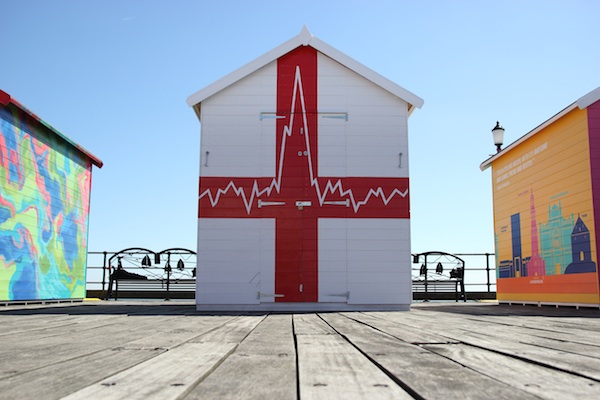 Groningen Beach Hut
The Happiest City in Europe – accessible by direct flight from Southend Airport takes over one of our Beach Huts to tell you about why Groningen is a great place to visit.
Exterior designed by: Studio Plakband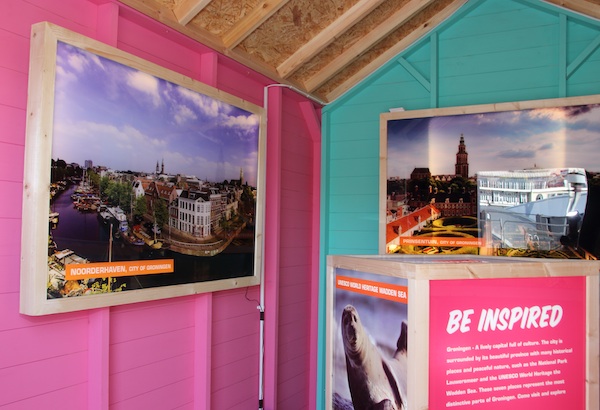 Gallery Beach Hut

Changing programme of exhibitions...
Exterior designed by: Louisa Chambers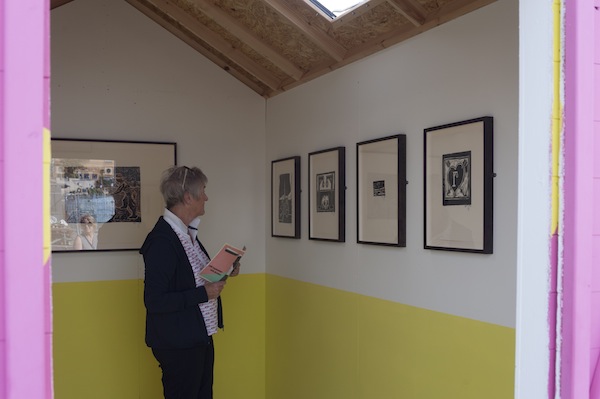 Billy Childish exhibition, photo by Jon Webber
Audio Beach Hut
The stories of six Estuary: Working Lives are captured by artist and writer, Rachel Lichtenstein. Part of the research she undertook for Estuary: Out from London to the Sea (Hamish Hamilton, 2016) to be published in September 2016.
Exterior designed by: David Watkins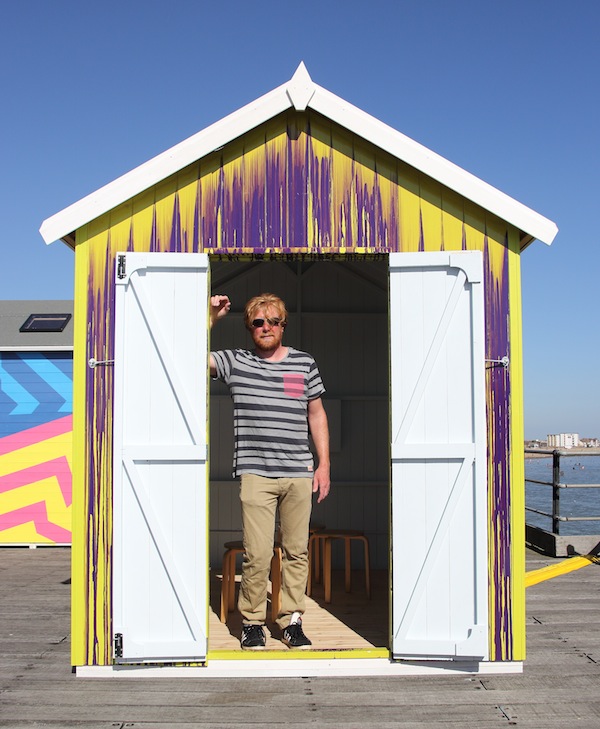 David Watkins
Museum Beach Hut
Take a trip down memory lane with our exhibition of posters and postcards from the collections at Southend Museum, conjuring up the early C20th life of the Pier.
Exterior designed by: Kitty Guthrie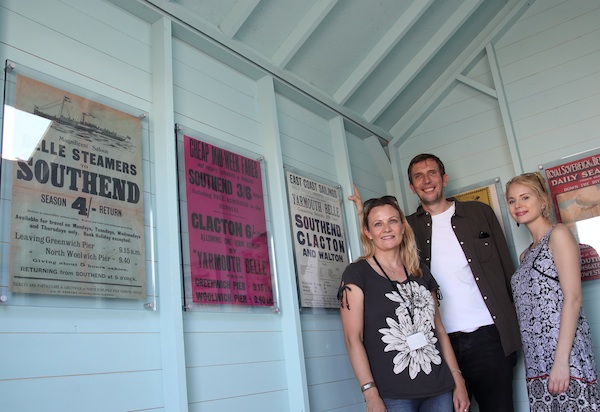 Literature Beach Hut
A collection of sea-themed books for all tastes and all ages. Novels, non-fiction, childrens stories – it's all here. Feel free to borrow as part of the online bookcrossing.com project (see inside book covers for details).
Exterior designed by: Felix Vaufrouard (Age 8)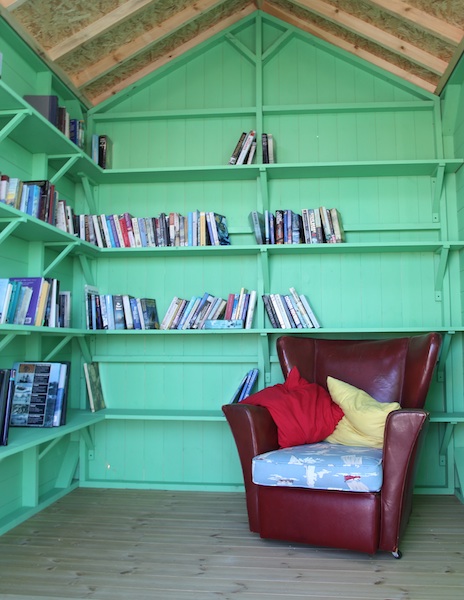 Coastal Beach Hut
Artist, Richard Argent draws scenes from significant events, landmarks and memories that stand out in the history of Southend and its magnificent Pier.
Exterior designed by: Sophia Dickinson (Age 10)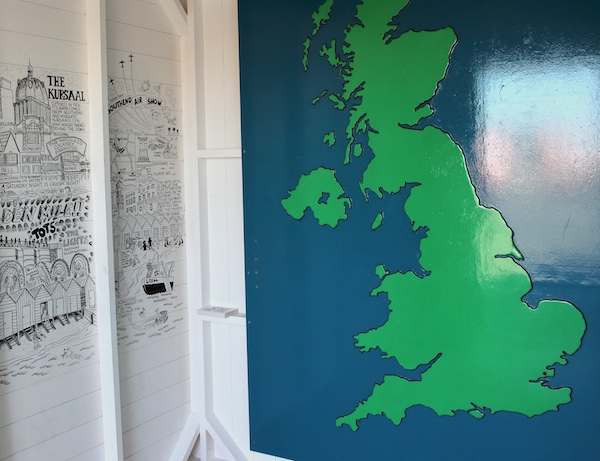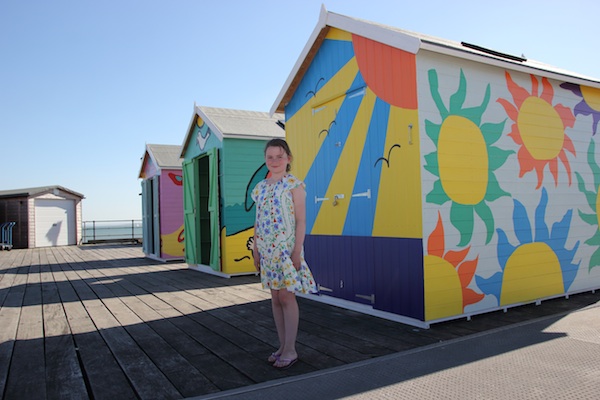 Sophia Dickinson
All Beach Huts have been hand-painted by Southend artists:- David Watkins, Heidi Wigmore, Jo Hall, Anna Watkins.
Radical Essex Hut was painted by Tommy Jolliffe hut.
The Beach Huts were built by
Wrights Sheds
.
Additional programme at Wish You Were Here for
Sound of the Thames Delta
weekend:
On exhibition in the Gallery Hut: Billy Childish in Print (A Survey)
Medway based painter, poet and musician, Childish has been active in the field of printmaking and small press publications since the mid 70's. This survey exhibition brought together works from the artist's extensive archive in a variety of media, from early punk fanzines to recent print editions spanning Childish's eclectic career. For Estuary 2016 we invited the general public to ask Billy a question and he returned his answers in the form of a free pamphlet he published with the assistance of the L-13 Light Industrial Workshop.





Wish You Were Here, all photos by Simon Fowler simon-fowler.co.uk, unless stated othewise.