Sound of the Thames Delta

Sound of the Thames Delta
DOWNLOAD THE PROGRAMME HERE.
Sat 1 & Sun 2 October
Venue: The Royal Pavilion, Southend Pier, Western Esplanade, Southend SS1 1EE

'Southend's never been a quiet seaside town, there's always been too much music and entertainment going on for that. So when Rock n Roll came along, Southend rolled up its sleeves and gave the nation a special flavour of Southend Rock.' Billy Bragg – narrator for Southend Rock, written and produced by Roger Deakin.

Introduction
Acclaimed writer Roger Deakin (d.2006) best known for his 'passionate, magical and meditative' writing about nature (Waterlog, 1999, Chatto & Windus, Wildwood, 2007, Hamish Hamilton) also loved music. In 1992 he wrote, produced and directed a documentary for Anglia TV called Southend Rock, narrated by Billy Bragg, which likens the blues sound, the flood plains and the pre-planning law 'shacks' of south Essex to the Mississippi Delta, giving rise to the now well used term the 'Sound of the Thames Delta'.
Architecture, landscape, industry, politics, economics? What is it about the specifics of place that gives rise to unmistakable sounds and attitudes in the invention and creation of new music? What role do venues play?
Estuary's Sound of the Thames Delta weekend brought together musicians, writers, artists, film-makers and broadcasters to examine the relationship between place and music, at the end of the world's longest pier in Southend-on-Sea.
Resident DJs, on the spot photographers and those who were there, discussed Crocs, The Goldmine, Blow Up, Sound Systems, Junk Club and more. Key figures from different music genres and subcultures that have grown out of the marshes of South Essex, spanning five decades, formed a series of panel discussions with live music, film screenings, and guests from further afield.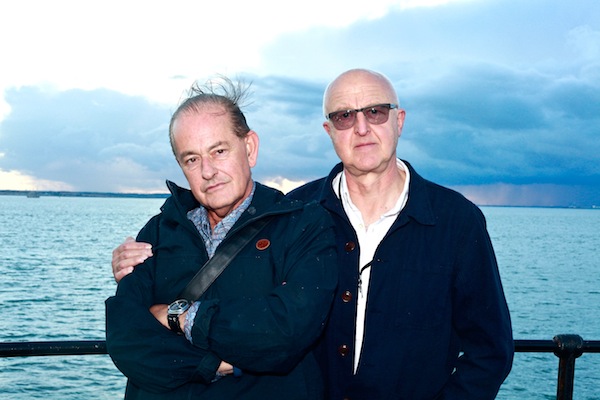 Martyn Ware and Chris Watson, photo by Julian Woollat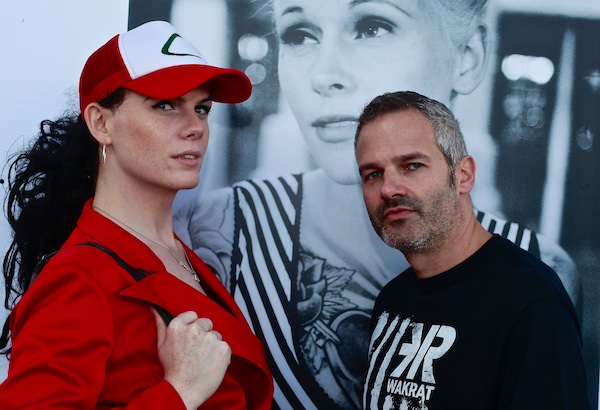 Jordan Gray and Jon Morter, photo by Julian Woollatt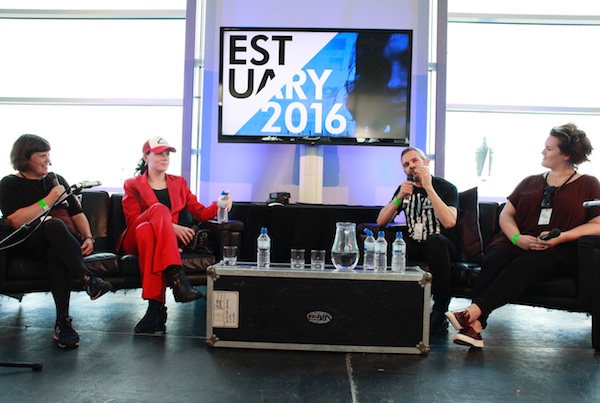 Ruth Barnes, Jordan Gray, John Morter and Elizabeth Alker, photo by Julian Woollatt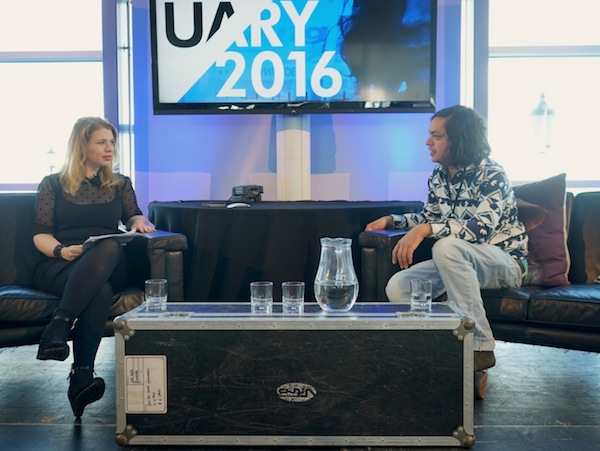 Zoe Howe and Sam Duckworth in discussion, photo by Julian Woollatt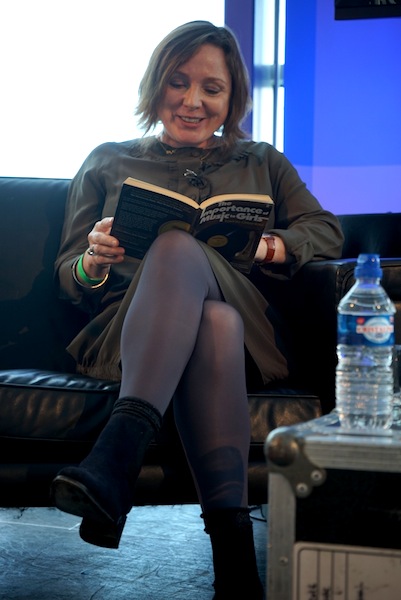 Lavinia Greenlaw reading from her book The Importance of Music to Girls, photo by Julian Woollatt

Programme in Detail

SATURDAY 1 OCTOBER

11.15-11.45am:
Lee Brilleaux: Rock & Roll Gentleman
Writer Zoë Howe (Lee Brilleaux biographer and co-author Wilko Johnson - Looking Back At Me) and author and DJ Daryl Easlea took us on a jukebox journey through the life of the legendary Dr Feelgood frontman with readings from Howe's recent book, music and conversation.

11.45am-12.30pm:
Sound of the Thames Delta
The Rhythm and Blues sound of the early 70's is inextricably linked to the title of our event. Music giants of the genre, Dave Robinson (Stiff Records), harmonica player and vocalist, Lew Lewis (Eddie & the Hot Rods), John Martin aka The Big Figure (original Dr Feelgood drummer) and Chris Fenwick (Manager, Dr Feelgood) talked to writer Zoë Howe.

12.30-1pm
Southend Scenes in the Sixties
The 50's and 60's club and coffee bar scene that gave rise to the local rock and rhythm and blues explosion and the role of The Kursaal as iconic music venue. With musician Will Birch (Kursaal Flyers), record producer Peter Eden, music writer John Howard and Sandra Donnelly.

1-1.35pm
The Death of Popular Music Countercultures?
UEL academic Andrew Branch talked to visual artist Scott King, cultural historian Matt Worley and writer Taylor Parkes about the erosion of radicalism in contemporary music cultures at the expense of a moribund nostalgia.

1.35-2.15pm
At the Discotheque
An evocation of the mainstream Essex nightclub from the 60's to the present day. Film, music, photos and the recollections of those that were there. DJ and percussionist Snowboy and Southend nightclub legend, Dick de Vigne, talked with DJ and author of Everybody Dance: CHIC and The Politics Of Disco, Daryl Easlea.

2.15-2.45pm
We Remain Faithful to the Alternative
A look at the early 80's alternative Essex club scene that spawned Depeche Mode: 'Places like Crocs are the unofficial heart to the artistic life blood of an area' (Phill Jupitus). With John 'Fatman' DJ, Richard Sharpe (The Shamen, Bas), Robert Marlow (The Vandals) and Jon Foster (Bronski Beat).

2.45-3.15pm
Southend: Dub Capital of Europe?
Archive material, music and the story of the Sound Systems of Southend from the 60's to the present day. With TDK Partnership, Derry Hall and academic Dr. Kenny Monrose talking to Nick Manasseh, pioneering UK Dub producer/selector, and Malcolm Goldmaster of Goldmaster Allstars.

3.15-3.45pm
The Club that Changed the World: from Monkey House to Blow Up
With Blow Up club founder Paul Tunkin in conversation with Jake Shillingford about his roots and involvement in the 80's Southend club scene that lead to the launch of the legendary London club, centre of the Britpop scene. (Title taken from a quote from Melody Maker)

3.45-4.15pm
Hedonistic Haunts for Wild Youth
Marking ten years since the last iconic night at Southend's Junk Club, we invited those involved to talk about the impact of underground music venues. With Oliver Abbott (Junk Club founder) and Ciaran O'Shea; Dean Chalkley (photographer); Luke Branch (Asylums / Cool Thing Records); Danny White (Youth Club) and Rhys Webb (The Horrors) with panel host, journalist Tim Burrows.

4.15-5.15pm
Locations that make the Music
Music writer and broadcaster, Pete Paphides talked to Chris Watson (Cabaret Voltaire and Experimental Sound Recordist) and Martyn Ware (Human League / Heaven 17, soundscape designer/composer) about the relationship between place and music.

5.30-7pm
Beach Huts; Busking and festival activities at the shore end in our busking hut designed by Sam Duckworth


EVENING EVENT 7-10pm
Leigh Folk Festival presents
The Estuary Songwriting Project (in tribute to Jack Forbes)
Following a recent residential song-writing LAB at Metal, eight eclectic musicians, songwriters and composers, who share a passion for the folk tradition, came together to perform original material inspired by the landscape, histories and people of the Thames Estuary region. In celebration of 25 years of Leigh Folk Festival. Read more here.

Featuring:
Hazel Askew, M.G Boulter, Lucy Farrell, Piers Haslam, Roshi Nasehi, Nick Pynn, Alasdair Roberts, Kate Waterfield


SUNDAY 2 OCTOBER

11-11.45am
Below Sea Level
Simon Scott, sound ecologist and multi instrumentalist talked about his project, Below Sea Level, with Mike Harding, the creative producer and co-director of audio visual label, Touch.

11.45am-12.30pm
Chronicles of a Bohemian Teenager
Prior to his 10th anniversary show later in the day, singer-songwriter, Sam Duckworth aka Get Cape. Wear Cape. Fly talked to author Lee Rourke (Vulgar Things, Fourth Estate 2014) about coming home to finally play Southend Pier.

12.30-1.45pm
Unknown and Unsigned
An opportunity for discussion with a number of provocations made by artists and musicians.

1.45-2.15pm
Disruptive Influences
Ruth Barnes, broadcaster and Women in Music advocate talked to Elizabeth Alker, 6music broadcaster, and music journalist, Jon Morter, 'social media hellraiser', and Trans* recording artist, activist and Voice UK semi-finalist, Jordan Gray about their personal activism within the music industry.

2.15-3pm
The North (and Almost Everything in it)
Rock journalist, Paul Morley read from his 2013 'breathtaking tour de force' (Stuart Maconie) and set the book in context with how music has informed his sense of the northern identity.

3-3.45pm
The Importance of Music to Girls
Writer and artist Lavinia Greenlaw read from her memoir (Faber & Faber 2007) of country-dancing, piano-playing, Essex village-hall discos and the coming of punk.

4-5pm
The Wilderness is Much Closer Than You Think
Musician Karl Hyde (Underworld /solo album Edgeland), director Kieran Evans (The Outer Edges) and poet Michael Symmons Roberts (co-author with Paul Farley of Edgelands) in discussion about those familiar yet ignored spaces which are neither city nor countryside.

5-7pm
Beach Huts; Busking; and festival activities

7-10pm
FOR ONE NIGHT ONLY: Recreations and Friends
Get Cape. Wear Cape. Fly. performing The Chronicles of a Bohemian Teenager.
Support from Recreations, performing Baby Boomers 2.

For ten years, Sam Duckworth performed as Get Cape. Wear Cape. Fly. It was an alias that served the Southend native well, taking him from major-label chart-raiding to the frontlines of activism, live music grassroots and, at one point, a guest spot on Hollyoaks.

Now, Sam is back as Recreations, cheerfully admitting the new moniker Recreations is down to nothing more profound than a deep-seated affection for big-hearted US sitcom Parks and Recreation. For his rebirth, Sam presents Baby Boomers 2; a self-produced collection full of wide-eyed, big-dreaming, conscientious pop songs that are undeniably him, but delivered with looser funk, crisper electronics and notably less tubs to thump on.


All Weekend at Sound of Thames Delta

Billy Childish in Print (A Survey)
The Medway-based painter, poet and musician exhibited works from his extensive archive in a variety of media in our Beach Hut gallery. From early punk fanzines to recent print editions, many books, woodcuts, etchings, monoprints and posters spanning Childish's eclectic career have been included.

Film
A rolling programme of artist's films and cult documentaries show in our bijou cinema in a Beach Hut on Southend Pier. Included: Our Hobby is Depeche Mode; Southend Rock; The Outer Edges by Kieran Evans; A13 – The Road to Somewhere by Neil Rawles and more.

Busking Beach Hut
Live, acoustic music, DJs and spoken word throughout the weekend from our Busking Beach Hut that has been painted with a design by Sam Duckworth.

ALSO AT THE PIER:

INFINITY: Iain McKell

An exhibition that spans four decades of extraordinary photographs, from the music and street culture of Southend in the 80's to more recent work documenting radical people over 50. Large-scale images will punctuate the mile long walk into the heart of the Thames Estuary on Southend Pier, accompanied by a podcast of Iain's recollections and insights into his work.

Dates: 17 September - 2 October
Venue: Southend Pier, Western Esplanade, Southend SS1 1EE
Opening Times: Mon-Fri 8.15am-6pm / Sat & Sun 8.15am-8pm
Please Note: £2 fee to walk onto Southend Pier

Wish You Were Here

An installation of ten Beach Huts on Southend Pier takes audiences on an artist-led, journey through the heyday of the classic Estuary seaside experience to the present day. The exterior of each Beach Hut is designed by an artist – and inside, each acts as a small cultural venue for ideas, exhibitions, sound works, performance, film and even a sea-themed library.

Participating artists include: Richard Argent, Ruth Catlow and Marc Garrett, Louisa Chambers, Andy Delaney, Sam Duckworth (aka Get. Cape. Wear. Cape. Fly), Chris Fenwick, Rachel Lichtenstein, Fraser Muggeridge, Kitty Guthrie, David Watkins and Sarah Kate Wilson.

Dates: 17 September – 2 October
Venue: Southend Pier, Western Esplanade, Southend SS1 1EE
Opening Times: Mon-Fri 8.15am-6pm / Sat & Sun 8.15am-8pm
Please Note: £2 fee to walk onto Southend Pier
(installation continues beyond festival dates)