Chloe Dewe Mathews
Chloe Dewe Mathews is an award-winning photographic artist. After studying fine art at Camberwell College of Arts and the University of Oxford, she worked in the feature film industry before dedicating herself to photography. Her work is internationally recognised, exhibiting at Tate Modern, Irish Museum of Modern Art, Museum Folkwang and Fotomuseum Antwerp, as well as being published widely in newspapers and magazines such as the Guardian, Sunday Times, Financial Times, Harpers and Le Monde. Public and private collections have acquired her work, including the British Council Collection, the Irish State Art Collection and the National Library of Wales. Her awards include the British Journal of Photography International Photography Award, the Julia Margaret Cameron New Talent Award and the Flash Forward Emerging Photographer's Award and her nominations include the Deutsche Börse Photography Prize, the Prix Pictet and Paul Huf Award. Chloe's first monograph 'Shot at Dawn' was published by Ivorypress in 2014 and in the same year she became the Robert Gardner Fellow in Photography at the Peabody Museum of Archaeology and Ethnology, Harvard University.
Thames Log:
Thames Log is the record of a journey Chloe have made, documenting encounters and happenings along the length of the river Thames over the last five years. From source to mouth, she photographed people enacting a range of rituals and routines, from ship spotters, mud larkers and pagan gatherings, to Pentecostal baptisms, coracle missions and ash scattering ceremonies. Although their motivations are diverse, all are drawn to the water's edge to perform their activity. The pieces shown at the Tilbury Cruise Terminal represented a small portion of the whole Thames Log project, which is currently being developed into a book.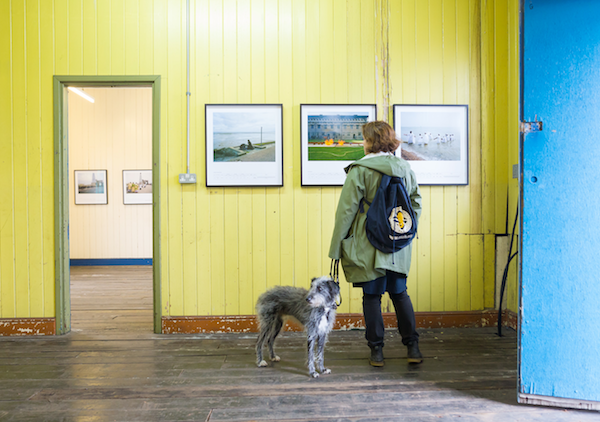 Photo by Benedict Johnson
Offshore Broadcast (2016)
In 1964, a pirate radio station was set up on the Maunsell Sea Forts, a cluster of gun turrets built 7 miles into the mouth of the Thames Estuary to protect London from German invasion during the Second World War. One of the easy listening stations based there, Radio 390, was targeted at housewives, becoming known as Eve: the Women's Magazine of the Air. In Offshore Broadcast, Chloe Dewe Mathews overlays footage of her own visits to the now derelict sea forts with radio clips of broadcasts made from the platforms in 1965.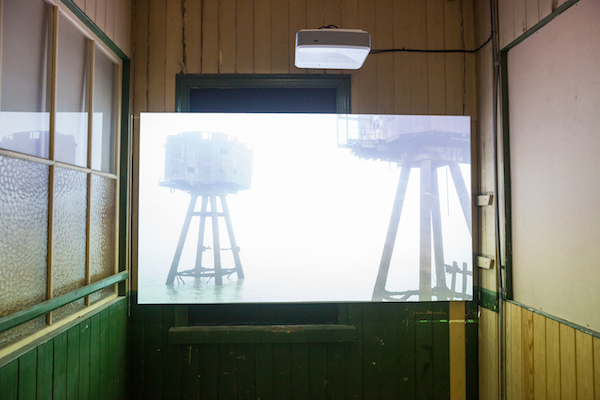 Photo by Benedict Johnson