French & Mottershead
French & Mottershead's multidisciplinary practice invites us to think again about who we are and our ties to place and one another. With a longstanding interest in placing the audience at the centre of their work, French & Mottershead have elaborated on themes such as individual and group behaviour, and how we connect with nature or urban life. Working across media from video, performance, photography, interventions and sound, the works are borne from rigorous research, often working with experts from a variety of fields. Their works have been commissioned by Tate Modern and The Photographers' Gallery and exhibited in galleries and the public realm across the UK and internationally.
Waterborne is an immersive audio work offering listeners an intimate and visceral meditation on their own mortality. Lose yourself in the most intimate of places; a place that paradoxically none of us will ever actually experience: our body's decomposition after death. Waterborne describes in poetic detail the course of your body's decay as it traverses time and place, from a canal, via a tidal river, an estuary and out to sea.

At Estuary 2016, Waterborne was experienced on board a boat - during a short boat trip, or on the waterside via an MP3 player, through a spoken narrative, written from forensic case studies of human bodies immersed in and transported by water, combined with site research on the tidal Thames. Word, voice and bodily sensations combine with the ambient sounds of the estuary, working on your imagination to create a self-portrait of your own body as it dissolves and fragments within the different bodies of water.
Waterborne is one of a series of Afterlife audio artworks, reflecting on how different environments (woodland, water, museum and home) would act on a body after death. Afterlife is supported by The Wellcome Trust and Arts Council England, and is advised by Forensic Anthropologist Dr. Carolyn Rando, University College London (UCL).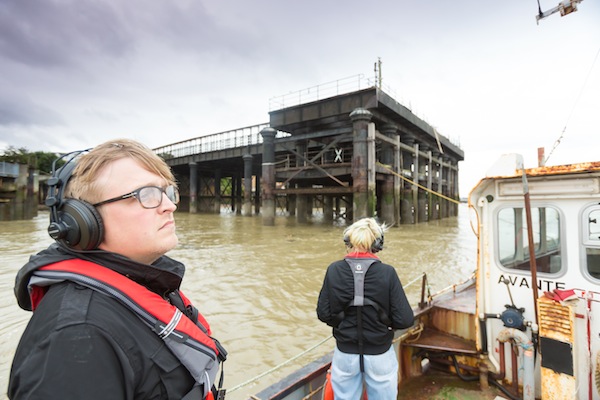 Photo by Benedict Johnson