Gideon Mendel
A leading contemporary photographer, Gideon Mendel's intimate style of image making and long-term commitment to projects has earned him international recognition and many awards, most recently the Pollock Prize for Creativity. Born in Johannesburg in 1959, he studied Psychology and African History at the University of Cape Town. He began photographing in the 1980s during the final years of apartheid. It was his work as a 'struggle photographer' at this time that first brought his work to global attention. In the early 1990s, he moved to London, from where he continued to respond to global social issues, notably his longitudinal project on the impact of HIV/AIDS. That photographic odyssey began in Africa and expanded to numerous other countries during the last twenty years.
Since 2007, Mendel has been occupied with Drowning World, an art and advocacy project about flooding that is his personal response to climate change.
The project began in 2007, when Mendel photographed two floods that occurred within weeks of each other, one in the UK and the other in India. He was deeply struck by the contrasting impacts of these floods, and the shared vulnerability that united their victims. Since then, he has endeavored to visit flood zones around the world, travelling to Haiti (2008), Pakistan (2010), Australia (2011), Thailand (2011), Nigeria (2012), Germany (2013), Philippines (2013), UK (2014), India (2014), Brazil (2015), Bangladesh (2015), and the USA (2015).
As the project has developed, the 'conversation' created by juxtaposing images from different floods in different countries has intensified. 'My intent is for Drowning World to bear witness to a shared human experience that erases geographical and cultural divides. In a flooded landscape, life is suddenly turned upside down. Normality is suspended, and human beings must adapt, strategize; move forward.'
The Submerged Portraits are at the heart of the Drowning World project. Mendel's subjects often invite him back to their homes, and to get there they travel together through deep floodwaters. In these dystopian and disconcertingly abnormal environments, he tries to make the moment when he presses the shutter calm and connected as he engages with his subjects. 'My intent is for their gaze to challenge the viewer and be part of a shared portrait of humanity in crisis in the face of natural disorder - a disorder than humankind has played a role in precipitating.'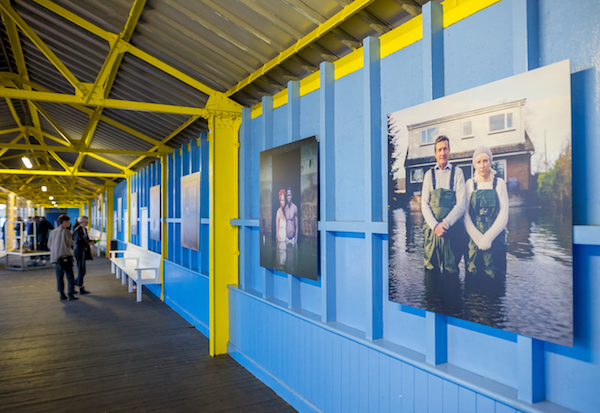 Photo by Benedict Johnson