Cathy FitzGerald
Dr Cathy FitzGerald makes award-winning radio documentaries for the BBC and international broadcasters and is the founder of White Stiletto Productions. Her credits include audio features on angry Vietnamese ghosts, magic carpets, and a museum of broken hearts. When not making documentaries, she's the caretaker of Radio 4's recurring creative writing series, 'The Invisible College', and creates podcasts, audio tours and apps for many of the UK's major cultural institutions including The National Gallery, Tate Modern and the V&A. She has a Dphil in the work of Charles Dickens and is currently working on 'Burn Slush!', a documentary for the BBC World Service about reindeer racing in the Arctic Circle.
What the river told me:
"Every day, people all along the estuary come to commune with the Thames. A man who has never left Essex eavesdrops on the radios of tankers as they pass. A widower stops to talk to his dead wife. An elderly couple rest on a bench and reminisce. The river hears it all. Our antenna - made from a jet of Thames water receives these voices in the ether and makes them audible."
In collaboration with Tony Churnside and Nick Piggott.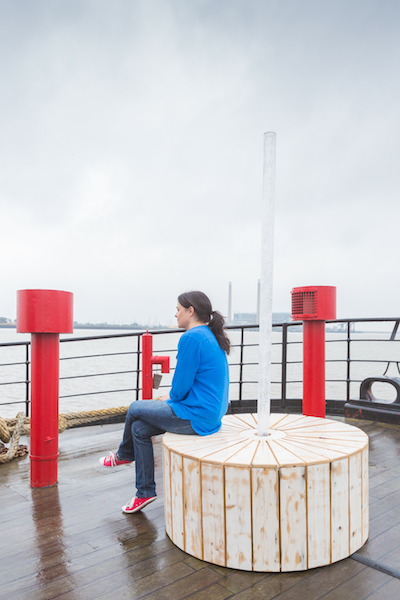 Photo by Benedict Johnson