Mark Donne
Mark Donne is a writer & film-maker. His work includes award winning feature documentaries such as "Rime of the Modern Mariner" (2010) and "UK Gold" (2013) – the latter a collaboration with musicians Thom Yorke (Radiohead) & 3D (Massive Attack). He has also directed a wide series of short films including "Ruin Lust" (2014) commissioned by TATE Britain & "La Fête est Finie" (2015) – a further collaboration with 3D & Young Fathers.
Brand new work - Listening with Frontiersman is a four screen film installation played out entirely in the Thames Estuary, exploring the notion of local or global exclusion zone as psychic fact; foreboding or reassuring, subject to the view of the perceiver. Each film examines the silent, implicitly violent distinction between one who may "enter" and one who may not and one who is permitted "security" and another who is not.

The project was presented at Coalhouse Fort on 17-18 and 25 September 2016 - as an inter-related, percussive set of immersive "frontiers" - visual and aural experiences that provoke deep engagement with emotional, moral and social borderlands; exploring ostensibly benign (invisible or intensely visible) borders and frenetically shifting frontiers.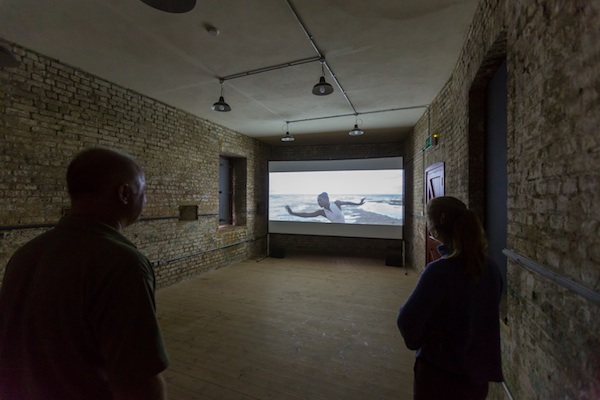 Photo by Benedict Johnson